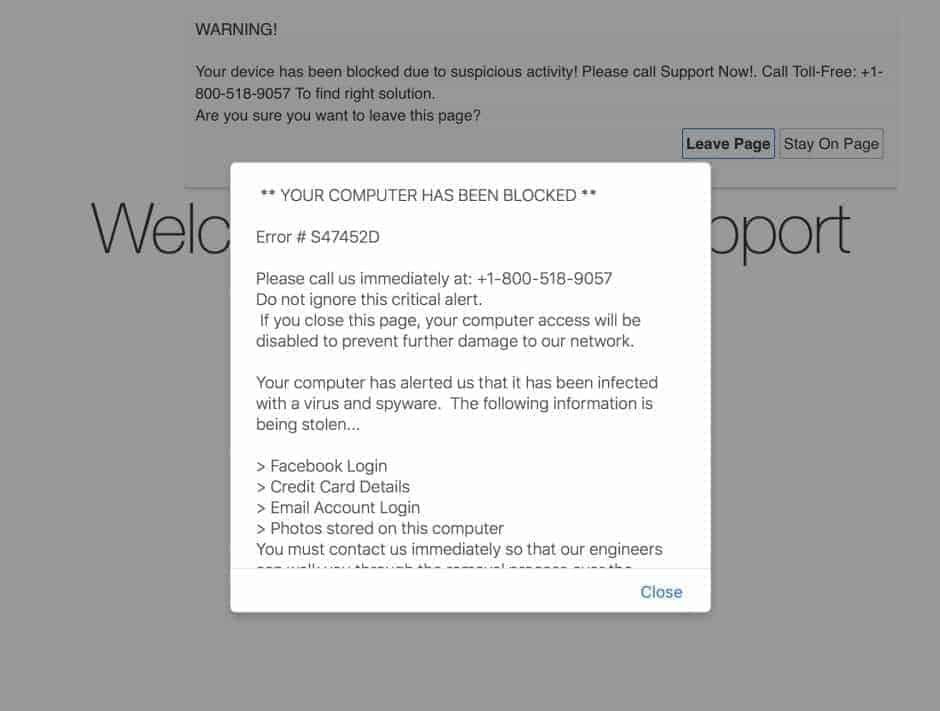 Popup on Mac
Here's a great example of a scam antivirus pop-up ad that one of our techs encountered while web browsing the other day. These types of fake virus alerts are very common and can show up on many different websites, even reputable ones. The pop-up warning looks very serious and scary. This one says that our computer has already been blocked, and that our personal information, credit cards, email logins, and facebook account have been hacked with a virus and spyware. Don't be fooled! This is a fake warning. The purpose of these alarming pop up ads is to get you to call the 1-800 number, or click on the link in the ad, and give the scammer your money and information. Ironically, those of us who are most worried about keeping our computers safe are the ideal targets for these types of scammers, because they prey on our fears about being hacked and infected with viruses.
"Online" Scan for Virus
Remember: no website has the ability to scan your computer for viruses or malware. A website does know your general location, browser in use, and operating system. Scammers might try to use those little pieces of information to make a pop-up add that looks more convincing, like telling you to call Apple or Google support for help. Don't fall for it! Instead of calling the number on a pop-up warning, and having a chat with someone who wants to steal from you, go directly to Apple's website and find their customer support number there. Or, even better, call your friendly local computer repair shop, EliteMacTechs! If you're worried that your Mac has a virus or adware, we can check it out with our free 24-hour diagnosis. We have an adware removal service available in shop and Nationwide! Visit our Malware Removal page for more info.
There's no need to be afraid of viruses and malware, as long as you use common sense and know who to call for help. Stop by anytime for a Malware scan at our Studio City Location, no appointment necessary!