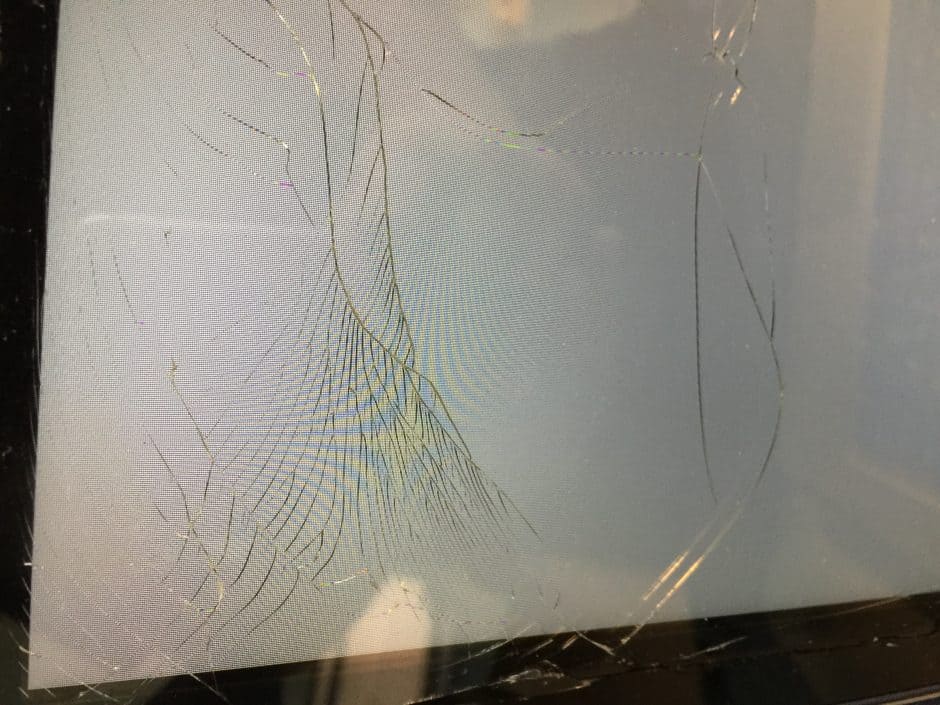 Separate Glass Panel
The MacBook Pro model has had a panel glass covering the screen since late 2008. While Apple did have an option to purchase the MacBook Pro with a Matte screen on their 15 and 17 inch models until late 2011 (Matte models do not have glass covering the screen and have a silver bezel), they were not chosen as much as the glossy screens were. This means the majority of MacBook Pro's have a glass panel that is covering the screen.
On the non-retina Models (if you have a DVD slot on the side of your computer it is a non-retina model), we are able to replace a cracked glass panel without replacing the entire display assembly! This helps bring the cost down a lot.
The picture above is of a cracked glass panel. You can see the screen is still working properly (no splotches, lines, distortion, etc), but the glass is badly cracked. We were able to replace just the cracked glass panel for $129 including parts and labor!
Many times hits to the screen from the front just break the Glass rather than causing damage to the LCD panel that sits behind the glass. When just the glass is cracked, the computer looks like it has a cracked windshield! The image is not distorted, but you can see the crack over the top of the image. If the LCD is cracked, there is usually distortion to the image itself (like lines, splotches of black, colors that are not correct, etc).
Have a different Mac laptop that you need repaired? We offer screen repair services for almost every mac model. Find the pricing to repair your Mac laptop on our Mac Screen Repair Pricing page.
The newer Retina models no longer have glass that is replaceable separate from the LCD, but we can still replace the display assembly if you have damage to the display on your computer.