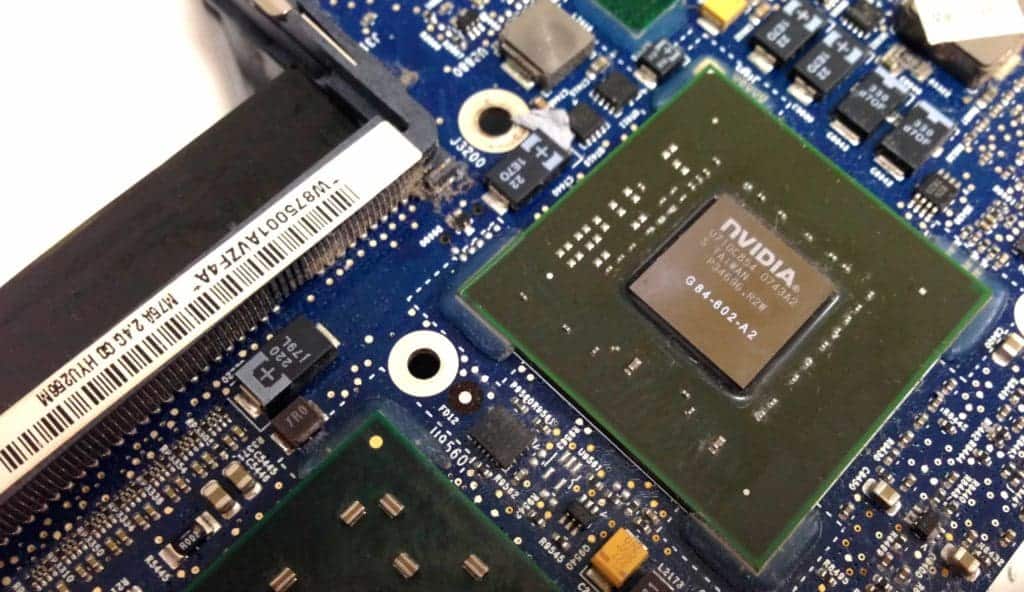 We definitely see certain repairs come in waves, often because certain aging Mac models encounter similar issues at the same time. Currently, we are seeing a huge number of A1226 and  A1260 MacBook Pros come in with graphics chip issues. These are the 15" MacBook Pros with silver keys that are now five to seven years old.
Our clients will bring in these computers with anything from pixilation on the display, bizarre display behavior, or no display at all, all tell tale signs of a graphics chip failure. The graphics chip is a piece of hardware that is integrated into the logic board and controls all graphics functions.  The bad news is that Apple actually issued a recall on the logic boards in these computers because this issue was so prevalent. They offered free board replacement for four years from the manufacture date on these computers. Unfortunately, that window is now closed. If you are the owner of one of these models and your graphics chip fails now, Apple is essentially of the opinion that yours far outlasted the expected life of the logic board as it outlived the recall period. This is frustrating news for any Mac owner, especially if you have taken great care of your computer and expected it to live a long life with you rather than be taken out by a faulty graphics chip.
There is very little good news in this scenario, but all is not lost. At EliteMac Techs, we can and do attempt repair on these logic boards. We see several a week, and steadily more so as these computers age. Unfortunately, even if the repair is successful, it is a bandaid fix at best and cannot promise to fix the issue in the longterm. Generally, we see a successful graphics chip repair add 5-10 months to the life of the computer before the issue returns. Essentially, it gives the computer's owner (hopefully) time to budget in a replacement computer.
We wish there was a way we could simply offer logic board replacements on these models, but since the logic boards were part of a recall and never made again, all of the boards available have either failed and been repaired with the same 5-10 month life expectancy, or are themselves ticking time bombs likely to experience the same failure at any time.
If you are the owner of an A1226 or A1260 and you experience graphics issues, feel free to bring it by for a free diagnosis and we will be happy to definitively diagnose the issue and attempt repair if you are interested. For this repair, we only charge if the repair is successful. Some of the graphics chips on these logic boards are too far gone and even we can't revive them, but we are more that happy to try.
Our best recommendation in this scenario is simply to update to a newer model computer. Any MacBook Pros made after 2009 are free of this particular graphics chip issue. We always have several quality used Macs in stock. Buying a used computer can greatly reduce the cost of upgrading your digital life! Check out our current stock here!