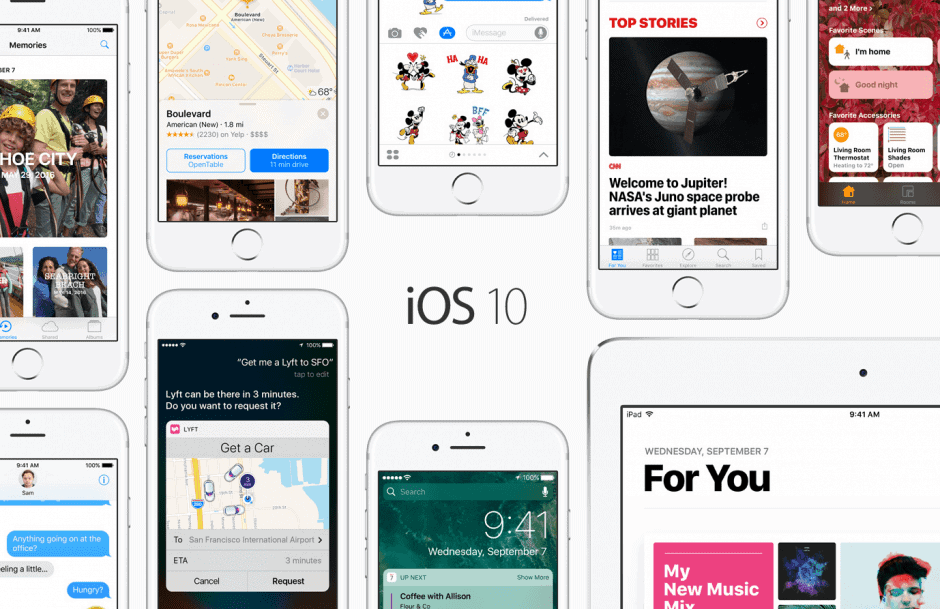 Apple is rolling out the new version of the iOS software for iPhone starting today. It looks like a substantial update, with an updated Maps App, lots of fun new Messages features, and an entirely new lockscreen. We even hear that Siri has learned some new tricks. If you have an iPhone 5 or later and it's in good working condition, you should be able to upgrade to iOS 10.
Here are the steps we recommend to make sure your iPhone upgrade goes as smoothly as possible:
Backup your phone. It's never a bad time for a backup! There are two ways to do this. You can back up to iCloud by going to your iPhone or iPad's Settings menu and clicking on iCloud, turning on iCloud backups, and pressing "Back Up Now." You will need to be connected to WiFi. This will back your data up to your iCloud account. The second way is to plug your iPhone or iPad into your computer using the lightning cable, and opening iTunes. You may need to enter your passcode. Then select your device in the iTunes sidebar and click "Back Up Now" under the heading that says Manually Back Up and Restore. This will save all of your data and settings to your computer so you can restore your iPhone in case something goes wrong or you want to go back to iOS 9 for any reason.
Check to make sure there is enough available space. It's a good idea to have 1-2GB of space free on your device for the update to download to.
Charge your battery, or even better, plug your phone in. You'll want to have plenty of juice while the update downloads and installs, it can take 30 minutes to an hour for the entire process. Also make sure that you won't need to use the phone during that time.
Make sure your device is compatible with the update by checking the Apple website.
Have your Apple ID and password handy.
Either plug your iPhone or iPad into your computer and select the device in iTunes, or connect to Wifi and go to Settings>General>Software Update to see if the update is available for you yet. Apple rolls out these updates over the course of the day. If you don't see the update yet, try again in a few hours.
To update wirelessly, press Download. Once the update is downloaded, you can install it right away, or set it to update later.
To update in iTunes, select the device in iTunes and click Check For Updates. Then install the update. If the wireless update didn't work or you don't have much free space on your device, updating in iTunes will be the best choice.
That's it! Enjoy the new iOS 10 features!