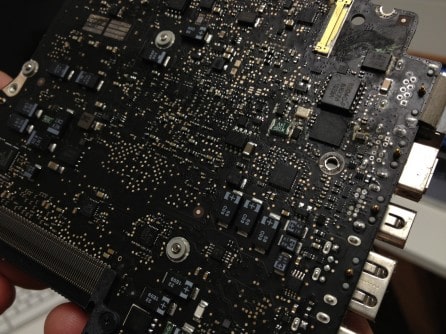 This is an example of light liquid damage on a logic board. This MacBook Pro laptop had milk spilled on it, and stopped working properly. After the liquid spill the computer would not receive power from the power cable.
Cleaning a liquid damaged logic board quickly is very important. The longer the liquid remains on the board the more it corrodes. EliteMacTechs offers a cleaning service that will clean each component that the liquid came into contact with. This will stop the corrosion and make repair more possible.
If you ever spill liquid onto your Mac, be sure to bring it to a repair shop that offers liquid cleaning services. Even if the computer is working right after the liquid spill, there can be issues that occur after the liquid corrodes the board, so don't wait!