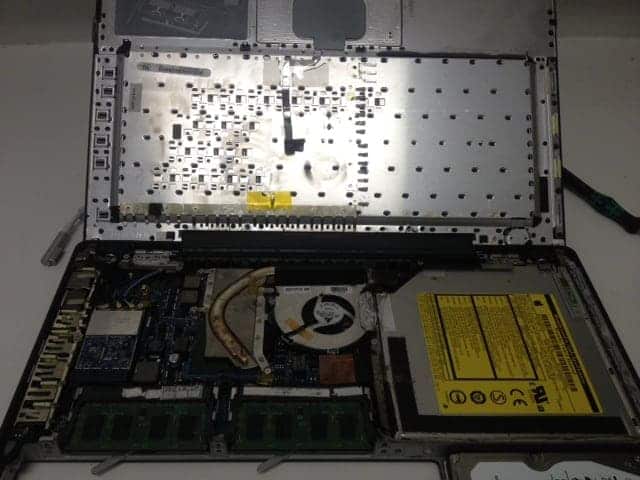 This older Black MacBook stopped working after a small spill of liquid that landed over the keyboard. The liquid made its way through the keyboard assembly and came into contact with the Logic Board. Since the logic board had sustained liquid damage, we recommended starting with our liquid damage cleaning service.
Our liquid damage cleaning service includes pulling the logic board out of the computer and cleaning it with an ultrasonic cleaner. We use a Crest brand ultrasonic cleaner and appreciate how it is able to clean corrosion from boards.
After the cleaning the cleaned logic board functioned, but the computer would not always turn on when the power button was pressed.
There were two options for repairing the computer, we could repair the damaged logic board utilizing logic board level repair techniques, or we could replace the board entirely. Due to the age of the computer the parts are actually very cheap! The board replacement ended up being less expensive than a board repair, so the board was ordered and replaced.
Once the replacement logic board was installed the computer functioned properly and our customer was able to continue using the computer.
If your computer has suffered a liquid spill, please bring it in for a free diagnosis! There is no appointment necessary and no cost for us to check out the computer.