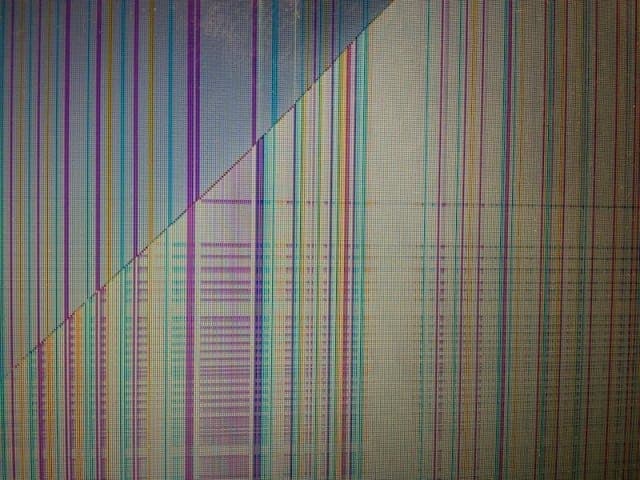 This A1181 13″ Black MacBook had the screen flexed at some point causing the fine crack on the top left of the screen. The flexing can be caused by something hitting the back housing on a corner causing the screen to warp slightly… it can even be caused by the computer being closed forcefully by a corner.
This crack in the LCD panel interrupted the transfer of data from the computer to the LCD, causing the lines and stripes you see on the screen. Apple computers use displays that more top of the line than average Windows based notebooks (with some exceptions of course). Even though the quality of the display may be better, the durability can be similar or sometimes even worse. The newer super thin MacBook Air and MacBook Pro laptops have very sensitive LCD panels. In the search of making a computer that is lighter and thinner than ever, durability does take a hit.
Not all screens are broken from a heavy hit or trauma. Sometimes it is as simple as the display being picked up by an edge causing the display to flex. Some models are more prone to this type of damage. The White and Black MacBook's produced between 2006 and 2008 seem to have more issues with display damage from bending then some of the other models. Another model that has a more delicate screen is the MacBook Air computers. The 12″ Retina MacBook that was made between 2015-2018 also has a very fragile display.
For this A1181 MacBook, we replaced the LCD for $149 including parts and labor. Once that LCD panel was replaced the screen looked as good as new!
We offer our screen replacement service in Los Angeles as well as Nationwide through out Mail-in service. If you want to know a quote for your screen repair, feel free to contact us with your computer's serial number (located on the bottom of the machine), and we will let you know what services we offer for your exact model.